Return of the Spork?
Mood:
cheeky
Topic: Show Information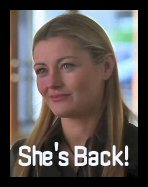 Yes the rumours are true! Actress Louise Lombard will be reprising her role as Detective Sofia Curtis during Season 10 - the character had a mixed response from the CSI audience after her character in Season 5 threatened the relationship between Grissom and Sara in the lab. However after returning in Season 6 we discover that she has been moved to the forces, and is now a detective on the show, in Season 7, Lombard made her way to the credits, after a more successful and positive response to her role in the forces.
However, she only appeared in the first episode of Season 8, after helping the team find Sara in the desert in Season 8 Episode 1: Dead Doll, we never hear or see of Sofia again, it was a mysterious exit for the talented actress, and the first of many exits on the show to happen over the past 2 seasons. As following Sofia's unexplained exit, was the exit of Sara Sidle, later followed by Warrick Brown's death, which eventually led to the lead of the show, Grissom leaving mid-Season 9 - and as we now know, CSI Riley Adams won't be returning in Season 10.
With the vast amount of changes, several exits, and some controversial newcomers, not forgetting the incredibly mixed response when CSIs favourite entomologist Grissom is replaced by Matrix celebrity, Laurence Fishburne, taking on the role of Ray Langston, which has caused a lot of controversy and divison between the fans. It is a relief to have a few previous characters returning to the show, let's just hope this nostalgia stint continues, and we might get back what we miss from our favourite forensics drama!
Posted by csithenightshift at 8:23 AM CDT